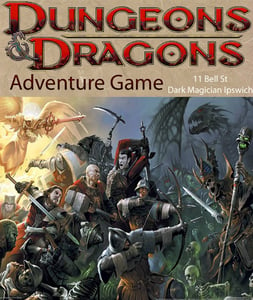 $

120.00
Sign up Adventurer and become part of an elite party of 10 that brave the realms of Dungeons and Dragon's Latest Edition.
Our Campaigns are Split into 10 weeks.
Played in store on Saturday Nights 6pm-10pm
People with All levels of Roleplaying experience are welcome to roll the dice.
Price is $15per week or $120 per term if you prepay.
Limited to 10 people.
First week is Character Creation and Introduction Game.
You can purchase players guide and dice in store.
Over the following 9 weeks you will be exploring the world and completing the Epic Quest.
New Campaign Starts Soon.